February 12, 2019 | By Peyton Sawyer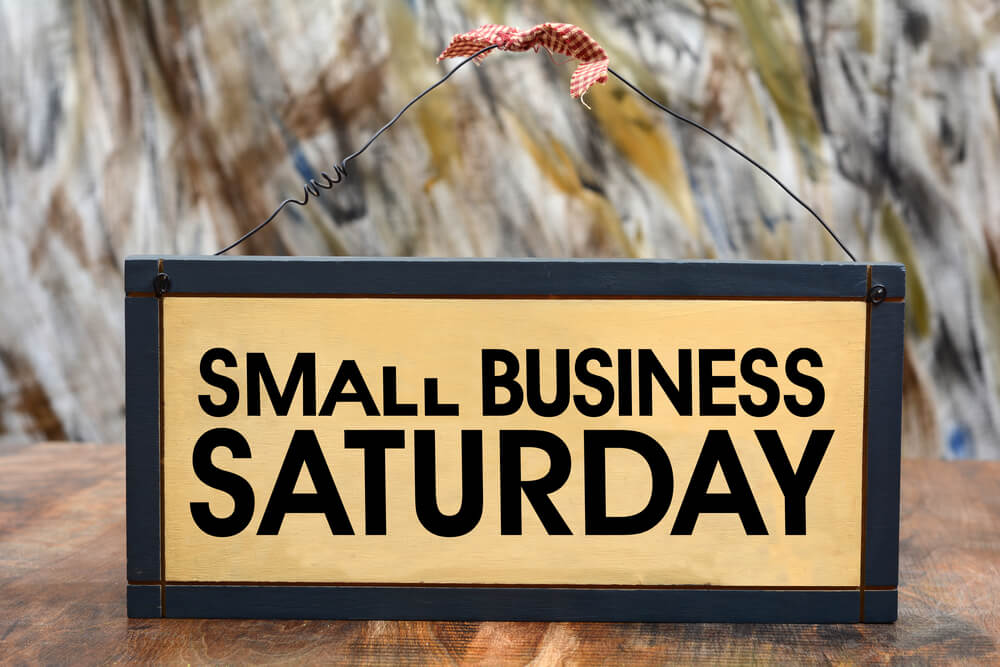 While national retail chains start their big push with events like Black Friday and Cyber Monday, small business owners like you have the opportunity to advance their business and customer base on Small Business Saturday. Celebrated the day after Black Friday, this event, dedicated to small business owners across America, can help to gain customers, generate sales and revenue, and assist in carrying a business through the season. Small Business Saturday is a great way for your small business to capitalize on the holiday season.
Small businesses play an important part in our communities. They help to strengthen our economy, build community involvement and growth, and provide more jobs to those in need. With the ability to create a place for locals to spend their money and feel appreciated, customers are reminded of the personal touch a small business can offer. Capitalizing on such an event, can provide much opportunity for your business to stand above the crowd.
Participating in Small Business Saturday
There are a few things you should do when getting ready for Small Business Saturday. Here are the top ways to take advantage of Small Business Saturday to help you and your business really stand out from the big retailers and millions of small businesses like yours.
How to Get Involved
Utilizing this day to increase revenue can be quite beneficial to your bottom line. The holiday season can the most profitable time of the year for many businesses, seasonal or not. And as a small business owner this can mean the difference between a make or break year for your business. Small Business Saturday is quickly becoming a yearly tradition for hundreds and thousands of businesses all over the country, so why not join other business owners in taking part in this event?
Know the Competition
Large corporations make it difficult for any small business owner to come out on top, especially during the holiday season. For a small business entity like your business, thinking on a smaller scale is to be expected. So, why try to compete with these national chains, when out doing them is next to impossible? Let's face it, without the capital to advertise big, discount big, and increase your customer base like they can, you're just fighting a losing battle. That's why many small business owners opt out of the Black Friday Sales event, to focus on a more attainable goal, Small Business Saturday. Use Small Business Saturday to really show off and let your customers know what you can offer that the big chains can't.
Know Your Limits
If your business is struggling financially, this may be the event that can help your business end the year ahead on a more positive note. As most of you know, Black Friday is a day that is celebrated by most national chains to kick off the holiday season. With the ability to discount products, slash prices, and spend an enormous amount of money on advertising and decorations, these national chains make it their business to beat out any competitor. That means you! So why not get involved in a holiday sales event, like Small Business Saturday, that is dedicated to small business owners like you? With growing popularity, this sales event is becoming one of the most profitable days in retail for all small business owners.
Market Your Business
Marketing is an essential part of business. It has the power to make your business more relevant in your industry. Marketing on a daily basis will also keep your customers engaged and interested in what your business has to offer throughout the year, but including a marketing campaign for Small Business Saturday will help to create more buzz for your business throughout the holiday season.
How to Boost Sales
Whether your business is providing a service or are selling a product, encouraging people to save bit and shop small can only help to capitalize on the small business event that Small Business Saturday promotes. Reminding consumers about the personal items or services that only you can provide can boost your business sales, as well as your community.
Online Marketing
Using the power of social media, customer emails, online ads, and even decorating your store window if you have a brick and mortar location, can increase your chances of making this season a success for your business. While you may want to invest in a marketing consultant for some of your marketing needs, there are also several social media platforms that can be used as free marketing tools.
Special Promotions
Introducing a special offer or promotion that existing customers or new customers can access during Small Business Saturday can help to make the event a success for your small business this year. Marking down your services or products during the event or creating promo codes for online or in-store sales is a great way to get (and keep) consumers interested in what you have to offer.
Make It Public
Make sure the news of participating in the event is public knowledge. Reach out to other business owners in your area. Offer to display their brochure or business card if they would like to return the favor. Coming together has many benefits, and it's not too late (or too early) to start taking advantage now! Partnering up with small businesses in your neighborhood can help promote the success of your business, as well as the businesses of other local entrepreneurs, and the whole community you all share.

Make the Smarter Choice
Dedicating your time and your hard-earned money on a day that was created for the small businesses that play such a pivotal role in making our communities thrive, is always a smart choice. It's a much smarter than competing with the national corporations that have a bigger reach than any single small business. Simply put, make your presence known, and let people know what their contribution does for small businesses like yours and their communities. Advertise your participation in the event, decorate your business, discount popular products or create incentives that will entice consumers, and make consumers think twice about going with a chain store. It's never too early to start planning the success of your small business. Best of luck, and Happy Small Business Saturday planning!