January 16, 2019 | By Peyton Sawyer

Opening a small business can be scary for any individual, especially for those of you in the baby boomer generation. As you approach your later years, more emphasis is focused on retirement. You may wonder how much is needed to live comfortably or even how you want to spend your golden years.
Many of us, over 50 or even younger, are working day in and day out to make ends meet. Unfortunately, more than half are in a position that does not satisfy them. That is just one reason why more and more individuals are taking the entrepreneurial road to self employment and success, but there are several more to speak of.
Reasons to Take the Entrepreneurial Road to Self Employment
You may be tired of working for the man with no recognition or appreciation. You may think that your value is more than they give you credit for. Or you may just be tired of waking each day to work in a position that simply does not make you happy. You may even feel that you have put your time in and now it is time to do something for yourself.
If you are 50 or over, you most likely have dedicated your life to supporting one person or another. Whether you started off as a young professional and committed to helping out your family, or decided to start one of your own.
Personal Reasons
Being responsible for someone other than yourself can dictate the direction your life will take. The journey can sometimes switch from fulfilling the dreams and goals you have set for yourself, to doing anything that will help to support your family. The responsibility of raising a family, usually takes the front seat, causing many individuals to take the less desirable path professionally.
Professional Reasons
The degree you have pursued, or the professional path you desire may not make the most sense when you have mouths to feed, so exchanging your dream job, for a job that can provide a higher salary is common. It happens more often then we would hope, but it is a harsh reality of life. This is one good reason, why individuals over 50 want to become business owners later in life. After all, you have put in the necessary time working in a position you hated for the greater good of your family, and it is time to do something that makes you happy. The children are grown, and it is finally about you.

Starting the Journey into Business Ownership
So let's talk about a new journey. Don't be nervous! It is time to say yes to yourself. Opening a business at 50 or over can help you to find the financial freedom and happiness you have been looking for. Don't count yourself out. Entrepreneurship is not only for the young.
Starting a business later in life can offer many advantages that the young hopefuls do not have. The years of experience in the business world, connections you have made over the years, and even the mistakes that you have made, are all a plus. With each mistake, you have learned how to overcome an obstacle, and find a new way. That shows the strength and maturity that a business owner should possess.
Deciding What Industry to Open a Business In
When deciding what industry to open a business in, it is important to determine what you like, what you are good at, and what you can picture yourself doing for the remainder of your professional life. You may want to take advantage of the knowledge you gained through the years, and open a business in an industry you have worked in, or you may want to start a whole new journey in a different industry.
Making a Good Business Investment
Opening a business in any industry, can be exciting, but also a little scary. You want to make a good investment. Doing research and market testing on a business idea before diving in head first is a smart move. You might want to even research what types of businesses seem to be more profitable than others before committing to an specific business idea.
Below you will find some small business ideas for over 50, that can help reach the road to entrepreneurial success.
Financial Advisor
A seasoned veteran, like you, can certainly excel in this area. Who knows the swings in the market better than you? If you already have a bachelor's degree, a love for money, and the experience needed to succeed in this field, then a starting a business as a financial advisor may be the thing for you.
What 20-something year old has the experience it takes in money and the market to sell themselves to others? Not many. That is why this small business idea may be just the right one for someone with your experience.
Consultant
Starting a consulting business, can provide the income you need. Whether you are offering consulting services in finance, design, organization, or any other area, you can create an opportunity to work with numerous companies, on various levels.
Taking the time to see what area you are most knowledgeable in, and making a business out of it, may be the idea you were searching for. Many companies outsource business, to keep costs down. You can be the consulting business that benefits from this.
Bookkeeper
Have you spent your life in accounting and finance? If so, bookkeeping can be a great business venture for you to embark on. Having a business background with the necessary skills in administration, marketing and finance, can provide you with the opportunity to offer your assistance to others.
Categorizing expenses and making payments for new business owners or even existing business owners that need a professional, can be a profitable business to get into over 50.
You can do it from anywhere. That means working from home, working on your own time, and the option to travel whenever and wherever you want, while operating a business. Who wouldn't want that advantage when they approach 50 years and older? Or, at any age!
Buying An Established Business
Building a business from the ground up can be quite challenging, not to mention very time consuming. If you don't want to risk the start up of a new business, or dedicate the time needed to get it up and running, then buying an existing business may be a good option for you.
Taking advantage of a business that is up for the taking, may be a bold move that requires more of an investment, but the immediate profit can be just what you are looking for. If you think you can turn a once profitable business into money maker again, then go for it.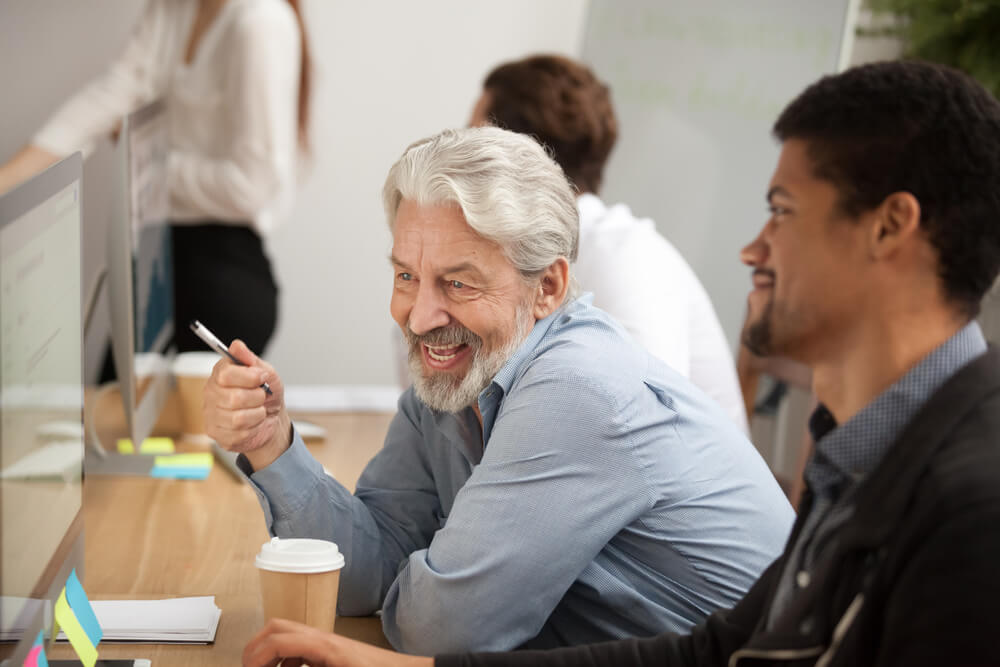 Repairs and Home Decor
If you consider yourself to be handy, and have an eye for creativity, then you may want to get into the business of home repairs and decor. This can be a large industry with much room for speciality.
If you are a carpenter by trade, or just have picked up some tricks along the way, then you can open a business in home repairs and updates. If painting is more your thing, there is also an industry for that area of expertise. But that is not all, maybe you have taken a liking to making or refurbishing in your spare time. If that is the case you may want to look into opening a business in home decor or home furnishings. The ideas are endless in this area.
Just do the research and market testing necessary, to see what services are in demand in your area. You just might having a winning business idea.